Nurarihyon no Mago: Sennen Makyou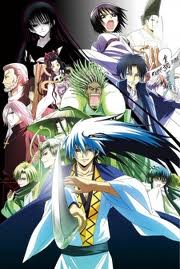 English: Nura: Rise of the Yokai Clan - Demon Capital
Synonyms: Nurarihyon no Mago 2, The Grandson of Nurarihyon 2, Grandchild of Nurarihyon 2
Type: TV
Episodes: 24
Status: Finished Airing
Aired: Jul 3, 2011 to Dec 18, 2011
Producers: Studio Deen
Genres: Action, Demons, Shounen, Supernatural
Duration: 23 min. per episode
Rating: PG-13 - Teens 13 or older

Pada pandangan pertama, tampaknya seperti Nura Rikuo tidak lebih dari manusia normal tengah bersekolah. Dalam kenyataannya, ia adalah cucu dari Nurarihyon, master klan youkai. Setelah baru-baru ini selesainya permusuhan antara Clan Nura dan Yokai Shikoku, Rikuo menemukan musuh lama Klan Nura, Haguromo-Gitsune, resurfaces. Setelah 400 tahun tidak aktif, Haguromo-Gitsune tiba-tiba menyapu Kyoto dengan kekuatan luar biasa.
hai hai hai..... saya ubay ajj akan membagikan film anime .. seru pastinya...
langsung aj kita liat sinopsisnya baru donglot (hhahaha... donglot) ...
udh ah capek, cekidot...:
Download Nurarihyon no Mago: Sennen Makyou Sub Indo:
episode 1
episode 2
episode 3
episode 4
episode 5
episode 6
episode 7
episode 8
episode 9
episode 10
episode 11
episode 12
episode 13
episode 14
episode 15
episode 16
episode 17
episode 18
episode 19
episode 20
episode 21
episode 22
episode 23
episode 24 [end]